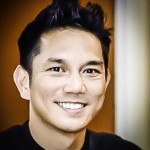 Hi, I'm Conrad Tolosa (pictured above on an overseas missions trip I organized for my local church).
I love Christ, Scripture, theology and philosophy. I try to simplify theology into practical, everyday questions anyone can use.
I have a Masters Degree in Christian Thought from Chesapeake Theological Seminary. My favorite theologians are R.C. Sproul, John Piper and Ravi Zacharias. Besides writing for this blog, my ministries include my family, two small groups at my local church and an overseas teaching ministry.
My goal is to help Christians live their faith by helping them understand what it truly means, and make it practical for everyday living. I want to see strong, knowledgeable Christians who are personally equipped to help others glorify God in even the most difficult of circumstances.
I live in Harrisburg, PA with my wife, two kids (who are all way into CrossFit), and a dachshund. I'm a big Star Wars, Star Trek and overall sci-fi fan.
I toured the U.S. in the 90's when I was in a signed Christian rock band, Ghoti Hook. I started this website in 1999 under the name Decapolis and have been writing ever since.
My motto and entire philosophy is: "Love God. Love Others. That's It." (1 John 3 &  4).
Follow Fast God Stuff here: Facebook, Twitter, YouTube, Instagram