The first time I saw mewithoutYou was at Cornerstone Festival 2002. Their bass player Daniel was handing out flyers for the first of four shows they would play that week by the bathrooms one morning, and we struck up a conversation. I had actually heard their then newly released album [A-B] Life a couple of times beforehand, and while I had liked what I heard, it was not something that floored me. To make a long story short,, I told Daniel I would go to the show, and it proved to be one of the most memorable shows I've ever seen. The band went up on stage in the mid-afternoon 90 degree weather in winter parkas. Flowers were strewn about the stage, vocalist Aaron Weiss threw himself around with no regard for his safety, and the crowd stood in awe. I suddenly had a new favorite band.
MewithoutYou, made up of five hard-working gentlemen from Philadelphia, are currently on tour in support of their captivating sophomore release Catch for us the Foxes. At a recent show in Akron, Ohio, I had the chance to sit down with drummer Richard Mazzotta after the show to talk about the band. Richard informed me that for interviews it is best to talk to him about band stuff, as Aaron has the tendency to get sidetracked and "go off" about spiritual matters. The interview with Richard complete, a few band members, some friends, and myself headed out for pizza where I had a lengthy discussion with Aaron, where he certainly did "go off" about lyrics, the church in America, politics, and Jesus.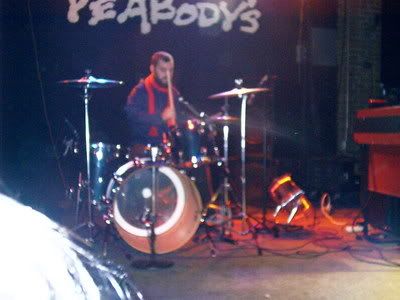 Aside from being an outstanding bass player, former mewithoutYou member Daniel was one of the nicest and most genuine musicians I've ever had the chance to get to know. I was saddened to hear that he had left the band, but glad to hear they found a solid replacement in former Operation front man Greg Jehanian. I asked Richard how things were adjusting with the line-up change. "Its taken a little while to get used to him. Dan had a really defined sound, at it's been kind of hard to capture that because Dan was like a pedal god. We've kind of had to replicate his setup, but things are going well." Richard added that Greg actually is not a full-time member and that there would be a band meeting after this tour to decide "who is going to be the man." Richard made sure to stress that Greg was doing a great job, but Dan is "definitely missed."
I then asked Richard to talk a little bit about how the band has progressed over time from the recklessness of their early days, as the band no longer wears the ridiculous parkas or throws flower petals around. "There definitely was a self-destruction element in the early days. It was like we had a lot of aggression and were taking it out on stage, so it's more like things have regressed," joked Richard. "Actually, Aaron made a conscious effort in trying not to be fashionable. He was caring so much about what he wore and not enough about people in the crowd. So basically, he decided to become a scumbag. I don't even know if he brought another change of clothes on tour." Richard would stress later in the interview that there is this "misconception that we're scumbags." Richard pointed out that while, "Aaron is a very unique individual, borderline homeless" and does eat out of the trash from time to time, earning the nickname of the "scavenger", Richard "has never been in a dumpster in my life. I don't understand Aaron. God bless him. I just hope he doesn't get sick."
In terms of musical progression, Richard asserts that the band has become "tighter." "Things used to be kind of gritty – a lot of distortion. We wanted to focus on the rhythm part of it, the bass and drums. Catch for us the Foxes has got kind of a hip-hop vibe. We consciously tried to do that." As I've listened to the new record I've noticed perhaps a bit of Interpol influence, so I asked Richard about that. He prefaced that "its totally lame when bands rip people off, but yeah, I listened to that record for about a year straight every day and then Mike (lead guitar) got turned on to it. Turn on the Bright Lights, to me, is one of the best records to come out in the last ten years and when you listen to something that much it just naturally comes out."
Richard then surprised me by talking about the "new record," as Catch for us the Foxes just came out this past October. "I think the new record, which we're already starting to write, is going like two steps back. With Dan leaving the band, Mike is becoming the primary songwriter again (Mike wrote most of mwY's debut [A-B] Life), and the new record is more of a medium. Sort of Fugazi-ish with lots of cool, picky distorted parts, and more driving." Richard did not have any set time frame as to when the public might hear some new mwY material, but said there were tentative plans to hit the studio again in January with Brad Wood. Part of the reason MWY is already making plans for the studio so soon is that Catch for us the Foxes has already sold twice what [A-B] Life did, so the band has "already accomplished something with the new record."
Outside of playing a few music festivals connected to the Christian music industry, mewithoutYou has made an effort to primarily play in secular venues and not limit themselves to the Christian subculture. Richard admitted how easy it would be to go play churches and make "$5,000 a night, but it's not something we want to do. Playing up on sanctuaries is just strange in general. It was hard at first trying to play bars and having 15-20 people a night, but we consciously tried to do things and have a booking agent." Their tiring tour schedule has certainly paid off, as the night of this interview mwY played to a sold out crowd in the small city of Akron, Ohio.
"We're pretty much the happiest we've ever been," says Richard of the bands' current outlook. "It's not tough to get on the bus and go on tour and dread going to Arkansas and hoping ten kids show up. We are all really comfortable with being on a bus together. For me, it's all smiles. I love this band and I love being on tour. It's still amazing to me that anyone shows up. I just love making music." While Richard's enthusiasm for the overall outlook of the band was obvious, Richard admitted that the band has their moments. "Every day it is something different. Like I knew Dan was going to quit. He was the last person to join the band, so it wasn't like the band was done, but if any of the other four of us quit, the band would have been over. I'm just waiting for something to blow up. Like three times last week I was like 'it's over." Despite the band going through some typical band squabbles, Richard asserted that, "all the chemicals are right to take us on the brink of something." Considering that the band already has two excellent releases under its belt, there is no reason to doubt that this is the case.
After the interview with Richard, a group of friends, several members of mewithoutYou's road crew, Aaron and Mike (guitar), and myself headed out to a local pizza shop to share a meal, and allow me the chance to finish the interview. Aaron was very adamant about finding a "mom and pop" establishment, and not a chain restaurant. For those who may not know Aaron at all, he is a humble individual, and quite an anomaly among rock & roll front men, more bohemian poet than arrogant rock star. His insecurities and personal weaknesses are up front for everyone to see, but his deep passion for matters of faith is contagious. His knowledge of the Bible and wisdom struck me proufoundly. Aaron and I ordered a cheese pizza to share, and the second half of the interview began.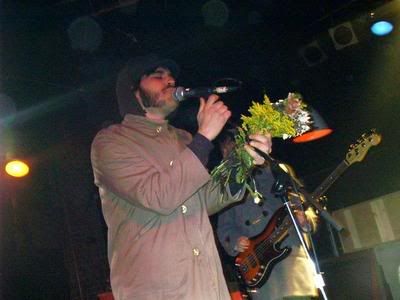 For those of you familiar with mewithoutYou, Aaron writes lyrics that are incredibly personal, but also beautifully poetic. I asked Aaron if it was hard to tap into those sorts of deep feelings night in and night out from the stage, and if it ever gets old. Aaron responded that "girl troubles occupy a lot of my time" and "yes, it is sometimes challenging to deal with memories from the stage; however, he admitted that sometimes it is just a matter of "putting on a show" and there is no connection. Aaron pointed out that the new songs are more faith-oriented and that "I should hope that singing to God doesn't get old. Sometimes it is a challenge to pay attention to every word I say and really make it a prayer, not just go up there and dance around."
"I lost hope in a lot of things and I thought about killing myself," responded Aaron when asked about the dark lyrical content found in certain songs on Catch for us the Foxes. "Everything just sort of fell apart emotionally for me." Aaron discussed living in two different Christian communities (The Simple Way and Brouderhoff) and how that helped him realize the love of God once again through loving people around him. "These experiences were so different than my church experiences, where I wasn't seeing any of that love for each other and sacrifice. Most churches I see don't take that seriously enough. The song off our new record, 'Torches Together,' talks about community and coming together and loving each other, and all this stuff I've been talking about."
While on the subject of lyrics, I asked Aaron if their record label, Tooth & Nail, had ever censored any of the lyrics he has submitted, being that Aaron no doubt pushes the limits of lyrics that could be submitted to a label that sells their records in a Christian bookstores. Aaron responded that "As a matter of fact, there was a song on our first record that could have been misconstrued as having sexual connotations, and they asked me to change one word. I sort of regret doing it." The censored word was in the song "I Never Said I was Brave" and "part your soft pink curtains" was changed to "part your soft white curtains." Aaron agreed to the change, and joked that his girlfriend Amanda, who the song is about, "moved right after I wrote that and got white curtains. If they ever told me 'Don't talk about God in this way', I wouldn't change it, but changing that line didn't change the meaning of the song at all. Tooth & Nail is a label with Christian ties, and I believe in serving God in a way that is very different than the way they operate, but we signed a contract."
"We're never going to be as beautiful as a flower God made," responded Aaron when I asked him about the change in his dress from the intentional fashion of their early shows to the thrift-store rejects he sports now. "We should be beautiful in the way that Sarah in the Old Testament was, with a quiet spirit. I got tired of trying to look hip and sexy and whatever. I want my beauty to come from a gentle spirit. In our weird little scene we have some influence, and I don't want to put myself up there to be a fashion model."
Aaron wrote some journals at the time of the past election that touched on the topic of politics. He had some strong words in these journals for George W. Bush and company, so I asked him about the role that Christians should have in politics. "Anyone that makes a living pleasing people, accepting bribes, doing the popular thing, invading countries, murdering, stealing resources, is far from what Jesus would want. Any sort of the rhetoric the Bush administration used to justify the Iraqi war is sickening. Bush using Christianity to justify war is idolatry and nationalism. Committing violence and brutality and theft in the name of Jesus is the worst of anything. If you're a Christian you have to lay that stuff down – love your enemies turn, the other cheek. When faith and power mix together, the results are troubling. When people say, 'when you reject the Republican Party you're rejecting God', well, that just has to be one of the biggest tricks the Devil has pulled. The people who might be reading this interview, I don't know where they're coming from, but we just need to walk in the path of Jesus and there are going to be toes we're going to step on. God is forever, the Republican Party is not. The people who say God is a Republican, well, you've got a very, very strange Christian. He's not a Democrat either, but he's definitely not a Republican. Jesus did not come to build up a political party, he came to bring Truth. America is just gluttonous, wicked, and frankly probably line for God's wrath. Christians don't want to hear about that, they want to hear 'God Bless America, go to church on Sunday and all is well.' We are not fooling God."
Our theological discussion continued when I asked Aaron how he answers the hard questions about his faith and his theology in general. "One of the hardest questions people ask is about hell. Jesus talked about hell as a punishment for those who reject God. God is kind and gentle and good, but there is also a sense in that he will judge us. There is a lot of darkness in this world. I don't believe in a God who just arbitrarily sends people to Hell, but we will one day have to answer to God when he tells us, 'I was hungry and you didn't feed me, I was naked and you didn't clothe me.' If you hurt and kill other people, you'll be rejected but if you serve other people you'll be accepted. We're building a house that, when we die, we'll have to live in. God has shown us the way to heaven, and its forgiveness, mercy, kindness, service, and love. He's shown us the way to Hell as well, and its selfishness, indulgence, running around sexually, starting wars and killing people, and most specifically being arrogant about our religion. God's shown us this clearly. Hell is the culmination, not necessarily a literal lake of fire, but a place of darkness. I want to serve God because God is good."
My final question for Aaron before our pizza arrived was if it was challenging for mewithoutYou, and him personally, to balance being entertainment and serving God. Aaron responded, "I hope crowds see some of what Jesus is talking about in what we're talking about. We hope to challenge this dark world and shed a light in the darkness. We might not to turn this world upside down, but then again in the scriptures it only takes one or two of God's faithful. God didn't need huge numbers of people to make a difference. They got out a message that gave hope, but we're just hoping to spread the truth of Christ which is that Jesus died for our sins and we need to share in his sufferings and love our enemies and forgive everyone who hurts us."
I thanked Aaron for sharing so much of his heart with me, and we proceeded to enjoy our pizza. As people began to finish their food, I got to see the "scavenger" in action. Aaron stopped the waitress from taking away the scraps of food and ate all the remaining leftovers from the table. The man is certainly one of the most unique individuals I've ever known, but also one of the wisest and most humble.
(Interview by Luke Kruse. Conducted on 3/24/2005)